Sewer Playset, Technodrome and more – FREE
We have a Winner
Wesley Briggs of Florida!!!
Cowabunga Dude!!!!!!!!!!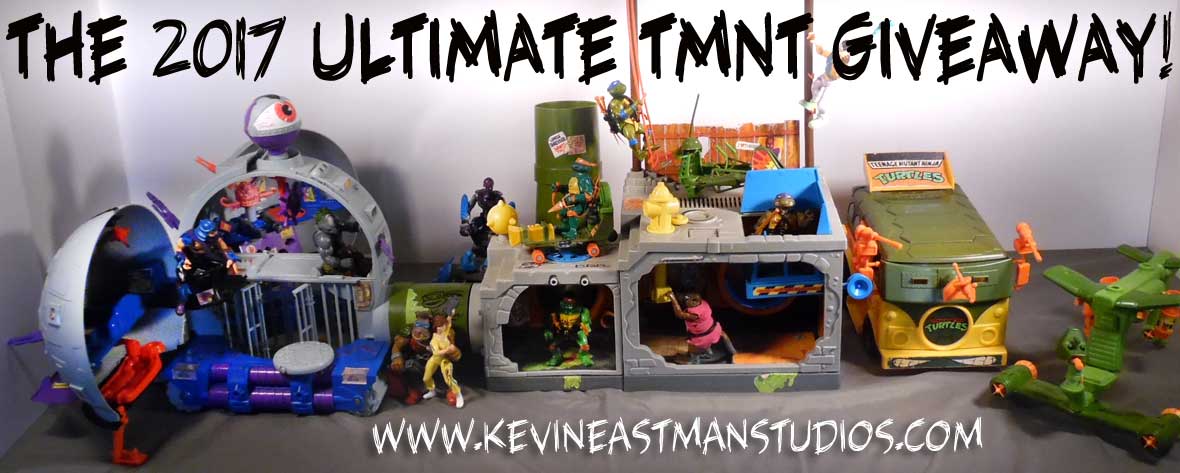 Today is the last time you can  TO ENTER TO WIN!
That's right… I'm giving this, the ultimate TMNT playset away! To celebrate the launch of my personal collection of toys, I've decided to GO CRAZY and give away this AWESOME playset group from the early TMNT toyline. One lucky person will get everything shown here including:
The Technodrome (Signed with Headsketch!)
The Sewer Playset (Signed with Headsketch!)
Party Van (Signed with Headsketch!)
Blimp Base (Signed with Headsketch!)
Turtle Trooper (Signed with Headsketch!)
Cheapskate (Signed with Headsketch!)
Knucklehead (Signed with Headsketch!)
PLUS a full set of the original SOFT HEAD toys signed by me including:
Leonardo
Michaelangelo
Raphael
Donatello
Splinter
Rocksteady
Bebop
Foot Soldier
… with Krang, signed April, a signed Casey Jones and a sewer pipe that is signed with a headsketch to complete the set.
This will be an AMAZING addition to any Turtle fan's collection!!
To enter, all you need to do is enter your email and name in the form below (beginning November 1). Even if you are already a Fan Club Member OR receive our Newsletter you must sign up here to be entered into this Giveaway. Everyone who enters between November 1st and December 15th will have a chance to win in our random drawing on December 16th, 2017. If you're really stuffy, you can view the entire set of rules here. Unfortunately because of local laws, we can only make this available in the USA.
Sorry folks, the contest has ended. We will be naming the winner shortly!