Kevin describes the newly launched Auction Department.
– A selection of items, mostly TMNT stuff, I've gathered over the years and think they could find AWESOME new homes with some of you collectors. Often these items have been in storage for 30 plus years and may show signs of wear and tear. Wherever possible these are in their original packaging but the item itself and packaging are described accurately AND EVERYTHING comes from my Personal Collection.
– COWABUNGA!!!
Showing 1–24 of 26 results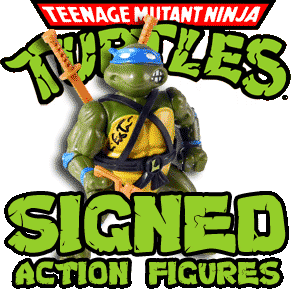 Cowabunga News!
Signed TMNT Movie Collages are Back In Stock These unique Kevin Eastman signed, hand made collectibles each comprise an original strip of 35mm film from a TMNT Movie (you can choose from TMNT ...
Auctions of Very Rare Collectibles, Heroes On A Half Shell and more … We updated the Auctions pages again today with several VERY RARE collectibles and ephemera including CGC Signature Series books,  a fun Original Work of Art ...
Eastman Studios Arty Zen Line The Kevin Eastman Studios Artisan Line, ARTY ZEN, of handmade  and customizable works of art based on Kevin's Original Artwork was launched recently and due ...
Tons of New Books Added We've just added tons of books to the Comics Department and the Fan Club Members Exclusive shops, including vintage titles, Convention Variants and the always ...
The Writers Block The Writers Block is a weekly post-con-style roundtable romp with some of the most outspoken (yet still employed) creators in comics. Show biz war stories. ...