I often get asked about my personal TMNT toy collection. I love all these Radically, Goofy, Whacky, Rock'n Rollin', Mutated, Kick-Action, Pizza Powered figures AND I am making some of them available for you.
These are played with toys from my own collection, I signed them and had fun adding weaponry (not always historical accurate – LOL) and repackaging them in my Personal Vintage Radically Rearranged Reptilian TMNT Toy Collection Clam Shells – designed just for you!

Lots of these toys are enclosed in a clear clam shell packaging and each toy is signed by me. We strive to photograph each of these so you can see my signature BUT in some cases I sign them on the foot (you can see LOTS of samples here), but when it comes to The Foot – I sign them on The Thigh – LOL!!!!
Showing 1–24 of 48 results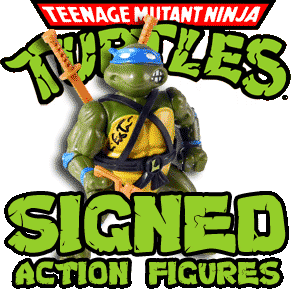 Cowabunga News!
TMNT 100 – LIVE on IDW Facebook Today December 10 at 11:30 PST

New Archie Comics & Mirage CowaBundles PLUS more

Archie Comics CowaBundles, Mirage Comic CowaBundles, Cover B CowaBundles, a Complete Set of Drawing Blood and the Ragdolls, Ultimate Collection 4, Shredder in Hell and ...

Classic Shredder

The original inspiration for the character of The Shredder came while washing dishes with Peter Laird. I thought he could be called The Grater ...

Batman TMNT Art 25% OFF NOW!!!!!

WOW, WOW, WOW!!! Now thru Monday we are offering a WHOPPING 25% OFF all Batman/TMNT Crossover art in the Batman/TMNT department.

Use coupon code I'M ...

Signed Toy Department is again fully loaded

A complete set of soft head classic TMNTs plus Sandstorm, Dr. El, Toons, Headdroppin', Usagi, Pizzaface and more – we just reloaded the Signed Toys ...