TMNT Munchkins Art AND Games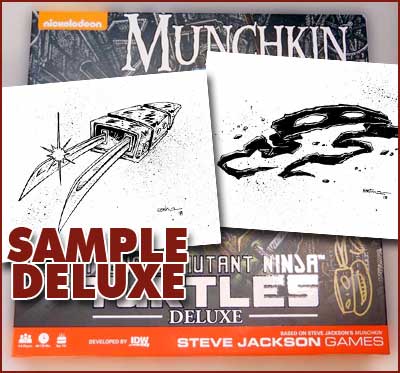 In the spring of this year I, Kevin Eastman, created several original works of art to be included in the Munchkin Teenage Mutant Ninja Turtles action-packed card game.  Every work of art I created for this game was unique – a one of a kind original AND now that the game has been released we are including a signed copy of either the Deluxe version OR  the Ultimate Deluxe Munchkins game too (these were exclusive to the Kickstarter) .  The Ultimate Deluxe package also includes a signed print and signed book reproduction of TMNT Book 1 – You could say it's The Ultimate Deluxe Cowabundle!!!
Each work of art is accompanied by a signed Certificate of Authenticity and is shipped from my Northampton Massachusetts studio.
I have signed each board game with a TMNT head sketch remarque in metallic ink.
Vi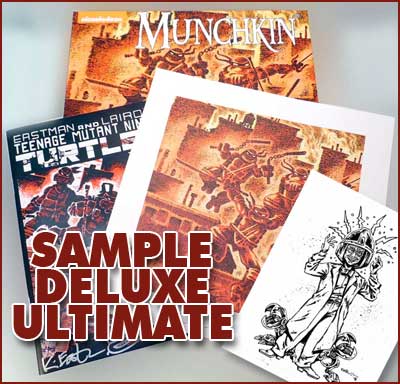 sit the Munchkin Art Department on my website to view all of these originals, REMEMBER that each is a one of a kind AND is featured in the board game – no duplicates.  We have very Special Fan Club Membership Pricing on these bundles too!  Remember to log in as a Member to see these discounts!!!
Grab this Cowabundle of treasure now!!!!
Munchkin: Teenage Mutant Ninja Turtles puts you right into the roles of the Turtles to team up and fight evil! This game takes the butt-kicking, back flipping, ninja stylings of the TMNT and combines it with the dungeon-exploring, loot-hoarding gameplay of Munchkin! Play as Leonardo, Donatello, Michelangelo, and Raphael along with April O'Neil and Casey Jones to take on Shredder, Krang and even more as you race to level 10!