TMNT Community Raising Funds for Australia's Wildlife
The Cool Kids Club and Kevin Eastman Studios recently offered a series of fun TMNT Original Art auctions to benefit organizations assisting in the rescue of wildlife devastated by the ongoing Australian fires. We are THRILLED to announce that so far we've raised over $1800 via Kevins facebook page.
We are launching another today – a fantastic rendition of OLD HOB generally pissed off after being attacked by SLASH. This was a cover concept for TMNT issue 67, The original art will be accompanied by hand assembled and signed TMNT time capsule.
These auctions will benefit WIRES an awesome group rescuing injured and displaced animals affected by the devastating wildfires in Australia. WIRES has been working to rescue afflicted animals for over 25 years and is a registered charity based in New South Wales, Australia. Below is a brief, detailing the current NEED for support.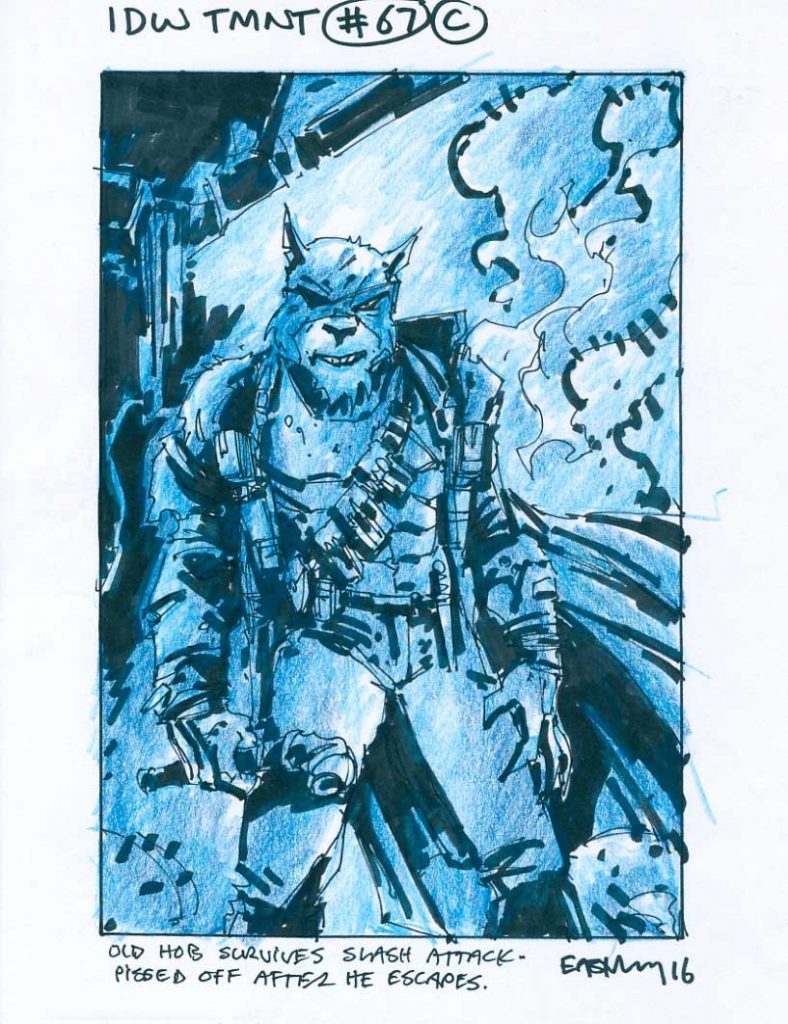 ————————–
In WIRES history we have never seen a concurrent series of emergencies events like those that began in November. Hundreds of fires over weeks have burnt over 4.9 million hectares of land in NSW alone. Many animals were already struggling with a lack of water and food due to the drought. With the fires destroying unprecedented amounts of habitat, food shortages have increased and lack of suitable habitat will be a significant long-term challenge for surviving wildlife.
It is impossible to know how many animals have perished and it will be many months before the impact on wild populations can be better understood but ecologists at Sydney University have estimated over 800 million animals have been affected in Australia since September.
Summer is a frantically busy time for wildlife rescue and there are still over 100 fires burning in NSW. In December alone there were over 20,000 calls to WIRES 1300 line, a 14% increase on last year, and volunteers attended over 3,300 rescues.
To help rescue sick, injured and orphaned wildlife please support WIRES Emergency Fund
—————————
Kevin Eastman Studios via Kevins Facebook page will be launching a new series of auctions over the next few days to raise both awareness and donations for WIRES.
Use #TMNT4WIRES to spread the word about these auctions. We will be asking auction winners to make their donations directly to WIRES which is a registered charity in Australia. We are unsure about the tax deduction ramifications of making donations from the USA BUT lets be clear here – the cash is needed and we suggest you consult with your own Tax Accountants for full details if you reside outside Australia.
We are joining forces with the Cool Kids Club on spreading the word of the TMNT community coming together on this and other auctions, sales etc. – use #TMNT4WIRES to spread the word on Kevins and Cool Kids auctions.
Winners of these auctions will be asked to show us a screenshot of their winning bids being paid DIRECTLY to WIRES. There are no bidders premiums or shipping costs etc. You make the donation and we will ship the auction item to you directly wherever you live.
Pics of some of the recent auctions.