Teen mutant turtles rescue ex-Buxton pizza man
The scene is a trash-strewn alley in a darkened city where four creatures with a strange resemblance to masked turtles crouch, shells to the wall.
Facing them are 15 members of the Purple Dragons, the city's most dreaded gang of street punks, armed with chains, knives and guns.
"You're dead, freaks!" the gang's ringleader snarls. "Nobody trespasses on Purple Dragon turf and gets away with it … especially when they're wearing stupid turtle costumes!"
But this punk is wrong – dead wrong.
These guys aren't wearing turtle costumes. These guys are real turtles – "Teenage Mutant Ninja Turtles," trained in the ways of the Ninjitsu.
They meet the punks head on, wielding swords, staffs and martial arts weapons. The air is filled with flashing steel blades, the thud of wooden clubs and the screams of wounded punks.
When the police arrive moments later, they find only groaning gang members, bleeding in the squalid alley.
Raphael, Michaelangelo, Donatello and Leonardo – the Teenage Mutant Ninja Turtles – have been true to their motto: "We strike hard and fade away… into the night."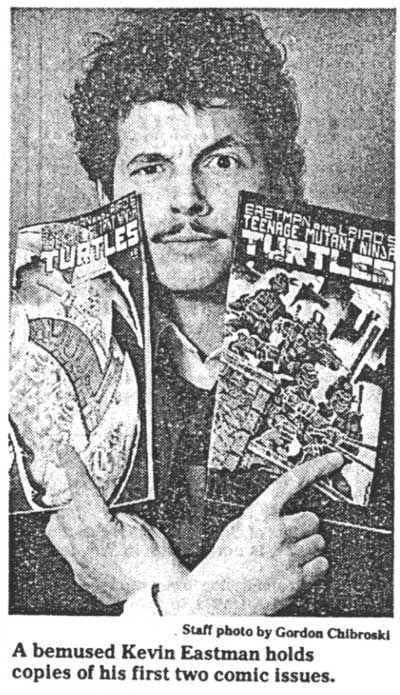 And they're joining the ranks of more familiar comic superheroes: Superman, Spiderman, Batman and Robin, the X·men, Conan and the Fabulous Four.
This bizarre quartet of superheroes, dressed in black and following the ways of the Japanese assassins-for-hire, the Ninja, are co-created by 22·year-old Kevin Eastman, a native of Buxton, and Peter Laird, 34, of New Sharon Conn.
The mutants – trained in the martial arts by Splinter, a giant rat professing a Buddhist outlook – have appeared in two issues since their debut since last summer and more than 80,000 copies have been sold nationwide.
Fans are clamoring for issue number three, which hits the stands this month, and now an Idaho firm has signed a contract with the artists to produce miniature leaden figurines of the turtle foursome.
Suddenly, Eastman and Laird have seen an $800 investment turn into more than $10,000 in royalties.
Eastman is still coming to grips with the unexpected success.
"I'm very, very surprised by this," he says. "I figured we'd be using a lot of these books for firewood."
The Teen-age Mutants started as a series of doodles on paper, a private parody of current trends in comics by the authors, who met when Eastman found one of Laird's comics on a bus and tracked him down.
"We just picked the most popular things in comics and put them all together – a team of heroes, the Ninja, teenage mutation… " Eastman said. "We used turtles because there aren't many animals in comics these days – except for Cerebrus the Aardvark."
The authors eschewed the pseudo-Oriental names commonly used in Ninja comics in favor of their favorite Renaissance artists – Leonardo da Vinci, Michelangelo, Donatello and Raphael.
Though they are named, the turtles have no distinguishing physical features. The only way to tell them apart other than through the dialogue is by their weapons.
Raphael, who carries a pair of "sais," or short daggers, will be featured next month in a special "one issue micro-series."
He'll be doing battle with Casey Jones, a psychotic vigilante who wears a sweatsuit and carries a golf bag filled with baseball bats, hockey sticks and other weapons.
"I try to use what's around me and make it as hip as possible," said Eastman, who remembers drawing for hours as a child in Buxton "because it was the country and there wasn't much else to do."
Each turtle adventure starts life as a one-page story written jointly by the authors. Eastman then does the "break-downs," block-by-block and page-by-page rough sketches of the action and dialogue.
Laird edits and rewrites the dialogue, then Eastman draws and letters each block in its final form on a 10-by-17-inch sheet. The two share equally in the final and most creative step inking the drawings.
The sheets go to the printer for photographing and printing. The whole process, from story line to camera, takes about a month.
Issue number one was self-published by the authors with $800 they borrowed from Eastman's uncle, Quentin Eastman.
The authors promoted the book with ads in newsletters and magazines for comic book fans, and their first press run of 3,000 copies sold out in a month.
Comic distributors started calling for more, so another 6,000 were printed. Those have also sold out, and this month 20,000 more are due off the presses – just to cover back orders.
Copies from the initial press run are commanding prices of $40 on the comic book collector's market.
Issue number two has sold 45,000 copies, and the authors are hoping for similar sales for number three.
Their earnings have enabled Eastman, who credits former Westbrook High School art teacher Jane Hawkes with helping him to hone his skills, to leave his full-time job at a Commercial Street pizza shop.
He recently moved to Connecticut to join Laird at his Mirage Studios, where the pair will invest their earnings in improving the quality of their comics.
"One of the things we hope to do is go to a full-color cover," Eastman said. The first issues have been done in black and white, with one extra color on a glossy cover.
Eastman doesn't expect to live forever on comic book royalties nor does he care to. He draws and paints other subjects in his spare time, and wants to move on to other ventures. But for now, he wouldn't change anything.
"All the time I've been drawing, I've had to work at some job to pay the rent," said Eastman. "Now I'm going to be able to draw full time. I couldn't be happier."