Raphael: The Interview
The Telegraph Wire – 1985
by Don Chin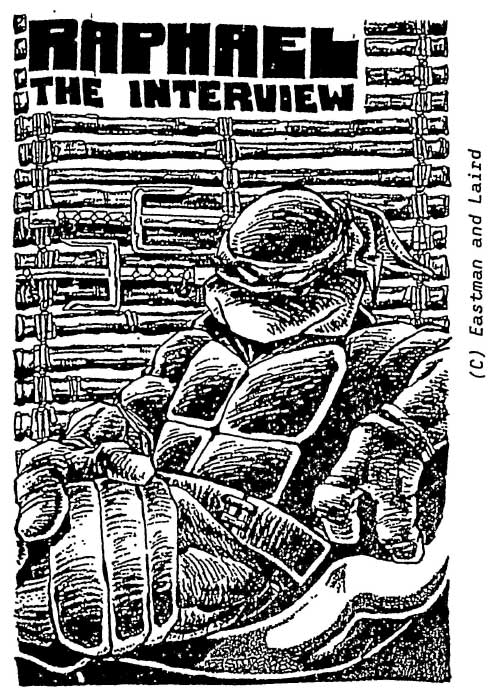 Last year the comics industry witnessed the birth of a strange team of reptile vigilantes known as the TEENAGE MUTANT NINJA TURTLES.
This very funny spoof of RONIN and DAREDEVIL caught on quickly with fans and the press, who both ate the idea up, much to the joy of the turtles, Donatello, Michaelangelo, Leonardo, and Raphael, and creators Kevin Eastman and Peter Laird. TURTLES has become one of the best-selling independent comics ever and first printings of issue #1 are commanding up to $80 on the collector's market.
Success has definitely made the turtles come out of their "shells" — rumor has it that the gang will film an American Express commercial, and a feature-length film directed by Steven Spielberg and George Lucas is in the works. (Just kidding! On a more realistic level, Laird and Eastman plan to release a series of TMNT buttons, possibly some t-shirts and a graphic novel, and are revealing the TEENAGE MUTANT NINJA TURTLE role playing game by Palladium Books this fall, which should complement the TURTLE lead miniatures that already inhabit the market!
I recently chatted with one of the ever-elusive turtles, RAPHAEL, who seems to be the best-known, if not the most psychotic of the bunch. I found him up on the roof, lounging in a lawn char soaking some rays while munching on a bowl of algae.
DON: thanks for joining us today, Raphael. Where are the other turtles?
RAPHAEL: Well, Mike's upstairs watching Strange Brew on the VCR for the fiftieth time, Don's modifying one of those radio-controlled jeeps into a a Mad Max machine, and Leo's either in the cellar working out or reading the new issue of Rolling Stone, I don't know which.
DON: How does it feel to be a comic book superstar?
RAPHAEL: Say what? I'm not so sure we're superstars yet. I just hope people are enjoying our adventures.
DON: Why did you choose the sai [a Japanese fork-like weapon] as your specialty?
RAPHAEL: 'Cause it makes for close-in fighting–and I like to see the sweat on the other guy's eyebrows!
DON: How was your childhood?
RAPHAEL: Generally, wet. Seriously, I have three of the greatest brothers anyone could ask for… and Master Splinter is like the father we never had.
DON: Are you really trained as a ninja, or do you employ "stunt turtles" in you book?
RAPHAEL: I pity the man who says that! Splinter has trained us in the ways of ninjitsu since we were but young lads, about thirteen years.
DON: Any comments on your own micro-series book?
RAPHAEL: It's a pretty wild story, with tons of action, featuring a new character named Casey Jones. If you think I'm crazy, wait 'til you see this guy!
DON: What do you enjoy doing in your spare time?
RAPHAEL: Swimming, sparring, working out, sleeping, and chasing small yard animals.
DON: How old are you? Height? Weight? Shoe size?
RAPHAEL: I'm 15 years old, four feet seven inches tall, 150 lbs., and I've never worn shoes.
DON: Any sexual preference?
RAPHAEL: You need a date…?
DON: Uh, okaaay! Ahem… do you find any advantages to being a turtle in a predominantly human environment? Any disadvantages?
RAPHAEL: Let's see… well, I don't have to wear a bathing suit when I go swimming. On the other hand, I have to do most of my swimming at night.
DON: How many thugs have you killed?
RAPHAEL: Several.
DON: How many thugs have you maimed?
RAPHAEL: More than several… and they know they've tangled with me.
DON: Please tell us your favorite musician, movie, and food.
RAPHAEL: Bruce Springsteen, The Terminator. As far as food goes, I'll eat just about anything… but I love Michaelangelo's stir-fry veggies!
DON: Any closing comments to our readers?
RAPHAEL: Keep your eyes peeled for the wildest adventures yet, coming in issues 4, 5, and 6 of our book! And watch out for FUGITOID, coming in August! Buy 'em… or else!
DON: Hey! I didn't say you could plug your books in my column! You think I'd sell out that easily, kid?!?
RAPHAEL: GRRRRRRRRRR!
DON: Okay! Okay! I'll plug 'em! I'll plug 'em! Now would you please stop dangling me from the top floor of the building????? MAMAAAAAAAA!
**********
Remember… all floral arrangements, review items, kinky letters, and spare $100 bills should be sent to me c/o General Hospital, Room 408. NURRRRRSE!
************************************
Special thanks to Peter Laird and Kevin Eastman for all their assistance in arranging this interview and for scooping me off the pavement.