Drawing Blood Volume 2 – TOMORROW!!!
Team Drawing Blood is thrilled to announce that on August 1st 2019 (TOMORROW)
we're going BACK to where it all BEGAN!
We're launching a NEW Kickstarter campaign for… DRAWING BLOOD VOLUME 2! at 10 AM EST (eastern standard time) August 1, 2019
Shane "Books" Bookman is back! Kevin Eastman presents Volume Two of DRAWING BLOOD, his dark-comedy look at the seedy underbelly of showbiz, fame and comic books!
(Never fear: you'll also be seeing more of those Radical Ragdoll cats you all love so much!)
The Shane "Books" Bookman saga continues… AUGUST 1st!
KEVIN EASTMAN'S "DRAWING BLOOD": VOLUME TWO!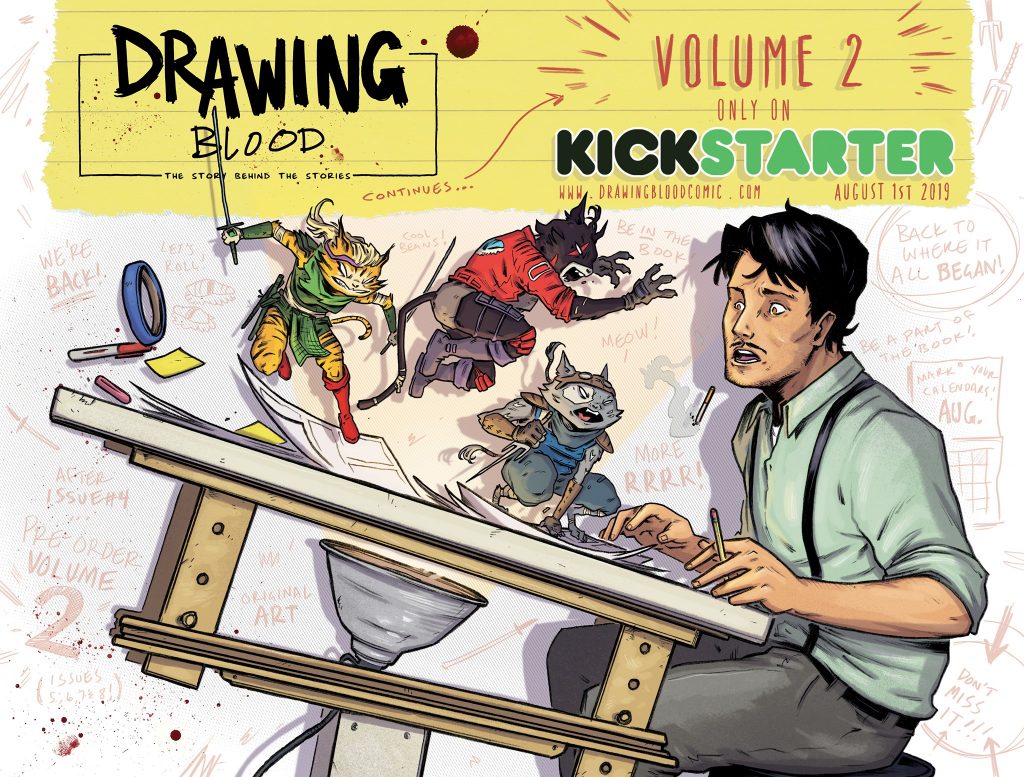 Hey, gang!
Kevin Eastman here…. Thanks for taking a look at our comic! I'm lucky that I get to make it, just as I've been lucky my entire career. I get to do what I love most: write and draw comic books. A life in comics, like any biz, can be a pretty wild ride. The highest highs and the lowest lows. I wanted to tell people the absurd, sad, funny, scary, crazy stories I've lived or heard over the years, and we started telling that story in Volume One of Drawing Blood. Now we're back! But let me bring you up to speed…