Teenage Mutant Ninja Turtles are GREAT for your kids!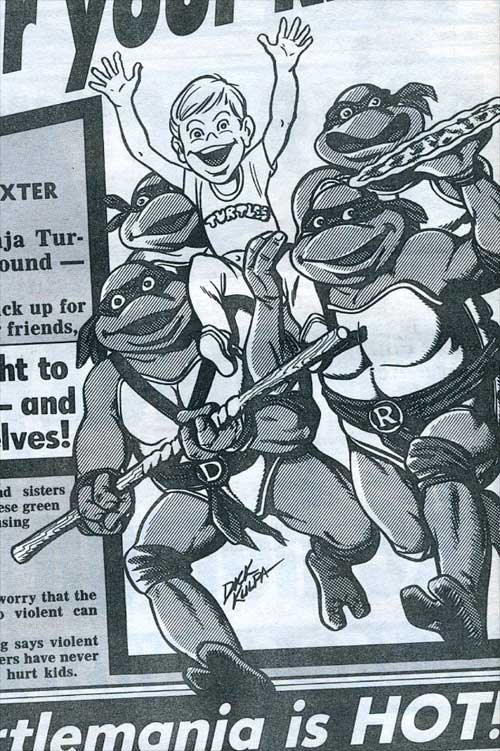 Weekly World News
May 15, 1990
By BEATRICE DEXTER
Cowabunga, dudes!  The Teenage Mutant Ninja Turtles are much more than just the hottest heroes around – they're a terrific influence on kids, experts say.
The phenomenal foursome teach their young fans to stick up for what they believe in and to have faith in themselves and their friends, according to top psychiatrists.
They help young children accept themselves and their feelings while teaching them self-control.  And the Turtles are easy for kids to relate to so they make great fantasy friends and role models, experts say.
"Much of the Turtles' fascination appears related to a welcome ordinariness of their behavior and language, in spite of their weird appearance," said psychiatrist Harvey R. Greenberg in a recent article on Ninjamania.  "The put-downs and puns that grownups find just plain dumb are hilariously familiar to children."
"They also identify with their idols' sloppy eating habits, their passion for junk food, and the slovenly comforts and secrecy of their underground clubhouse (the typical fan's vision of his own room?)."
Dr. Greenberg says research by famous psychiatrist Bruno Bettelhelm indicates characters like the Turtles have immense powers for good.  They help children deal with their fears and reassure them that they can make their way in the strange and frightening world around them.
The Turtle heroes, whose famous war cry is "Cowabunga, dudes!", strike the children as slow-moving defenseless creatures who nevertheless not only take care of themselves – but beat their enemies, too.
With the help of wise Splinter, a substitute parent, the Turtles learn to stand on their own feet and become Ninja warriors.  They also learn important life lessons: Use your brains to solve problems.  Don't kill. Work together to vanquish evil.
"Youngsters project their 'bad' feelings upon a bad villain you have to hate, whose destruction is totally justified," Dr. Greenberg pointed out.  "Fans might even learn to lighten up around their own brothers and sisters from watching these green brothers, stop abusing each other to team up against evil Shredder and company."
Parents who worry that the Turtles are too violent can relax.
Dr. Greenberg says violent cartoon characters have never been proven to hurt kids.