By GARRET CONDON
Courant Book Editor
Hartford Courant
Sunday February 17, 1985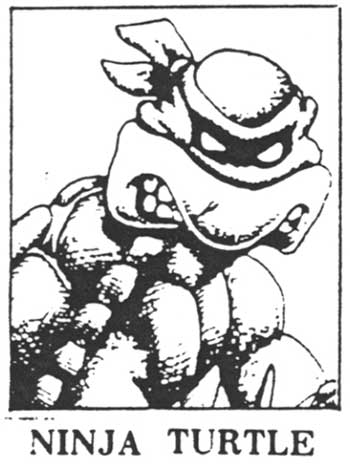 Their call rings out like the cry of so many comic book heroes: "We are the Teenage Mutant Ninja Turtles. We strike hard and fade away into the night'"
Well, OK. you may not immediately recognize the cry of "Teenage Mutant Ninja Turtles" unless you read and collect comic books. In which case, you recognize the "Teenage Mutant Ninja Turtles" (Mirage Studios: $1.50 ) as one of the big successes of the underground comics business.
The cartoon turtles are a kind of takeoff on popular comic book themes such as teenagers and mutants and samurai-type comics such as "Ronin" that basically follow the same plot as any kung fu movie.
The turtles, according to the story, were raised by a savvy Japanese rat named Splinter after a chemical spill caused them to grow to human height, weight and intelligence. Splinter taught them the martial arts of the ninja (assassins) and named them after Renaissance painters: Leonardo. Michelangelo, Donatello and Raphael. Also like a lot of comic book heroes, they're dedicated to truth, justice and the American way. But they have to keep a low profile because they figure a lot of humans just wouldn't understand a 6-foot turtle wielding a katana (Japanese warrior's sword.)
The two creators of "Turtles" are illustrators Peter Laird, 31, and Kevin Eastman, 22, of Sharon, who worked on issue No. 1 last May when both were living in Dover. N.H. They printed 3,000 copies, hoping to sell only enough to make their printing costs. "We were worried we'd print 3,000, sell 300, and burn the rest of them to keep warm through the winter," Laird says. Instead. all 3,000 sold in a month and a second printing of 3,000 copies sold out as well. Two printings of issue No. 2, which hit the streets in December, have sold out – a total of 45,000 copies.
"Right now it's going fabulously," Laird says. "It's a lot better than we envisioned." He and his wife moved to Sharon in August so his wife could begin a job teaching English in Falls Village. Mirage Studios, the result of the Laird-Eastman collaboration, is in Laird's home there, and Eastman has just moved to town.
Harold Kinney, who sells new comics and back issues at his East Hartford bookstore, The Bookie, says the "Turtles" success is especially remarkable because the two issues have been black-and-white comic books sold only in stores with large comic book sections not drugstores or newsstands. "Most of the kids are pretty much boxed into the name comics," he says. "To get something like this with something that's been put out as a goof, they did well."
This all started innocently enough, says Laird, who met Eastman three years ago when both lived in Northampton. Mass. They shared a taste for comics, became fast friends and toyed with the idea of a comic book of their own. Last year, Eastman drew a couple of turtles and then drew in the Oriental weapons of samurai comic heroes. They both liked the characters so much they decided to write a story around them, and "Teenage Mutant Ninja Turtles" was born.
Now they're in the thick of writing issue No. 3, and spending most of their time writing, drawing and even planning reprints of back issues to fill the demand. "We have [story] ideas plotted out to issue No. 6." Laird says. "After that, the story could go anywhere. We just want to make an interesting book that's fun to read."