The hottest new comic book out is an independent effort from a small studio in Sharon, Conn.  It's a brilliant blend of parody, martial arts, superheroes and the absurd
Hartford Advocate
May 8, 1985
By Stanley Wiater
Remember when you were a little kid, and your parents told you to stop "wasting your time reading that JUNK?" Remember when you reached puberty and your mom threw out your complete collection of Fantastic Four, The Amazing Spider-Man and Batman? Remember when you had to hide the latest issue of X-Men behind a copy of Playboy so others couldn't prove you had trapped yourself in blissfully ignorant adolescence? Or when you were finally convinced that you should be absorbing Business Week rather that Doctor Strange because "nobody can make a living from that JUNK and we all have to grow up and put away our childhood fantasies?"
But wait – here is proof positive that some of us didn't put away our childhood pleasures and move on to the big, bad, boring world of nine-to-five adulthood.
Peter Laird and Kevin Eastman, from their Mirage Studios in Sharon, Connecticut, are two lost souls who have taken their superhero fantasies to heart – not to mention all the way to the proverbial bank. They are the co-creators of Teenage Mutant Ninja Turtles, currently the hottest title in the entire field of caped crusaders and masked righters-of-wrongs. Although the book has been in existence for only a year, the initial printing of the first issue is already being offered by collectors for a cool $75. With three issues published so far – and available solely by direct mail and through specialty comic book shops – Eastman and Laird are about to crack into the Big Time.

First put together in one room when they were both working in New Hampshire last Spring, some 3,000 copies were printed of the initial issue, funded partially by a tax refund of Eastman's as well as a loan from his uncle. Realistically, the two would have been lucky if their black and white, independently produced and marketed "alternative" comic sold 300 copies. "But the 3,000 copies sold out in a month," says Laird, who with Eastman was at a signing recently at the Funtasy Fantasy bookstore in Amherst. "And then we did a second printing, and those sold out within a month, and we had back orders already for 10,000 issues before we did the third printing!"
Just from the title alone, you get the idea that Eastman and Laird have read a lot of comics over the years, and wisely figured what the readers of contemporary comicdom were into: mutants (teenage, of course), martial arts and… turtles. Turtles? Well, if Bugs Bunny and Daffy Duck are legends, why shouldn't the band of avenging turtles known as Leonardo, Michaelangelo, Donatello and Raphael strive for immortality too? Admittedly, they were once just ordinary turtles, until a mysterious chemical spill transformed them into intelligent adolescent beings. Of course, their lives really changed once they were taught in the ways of the ninja by a mutated rat named Splinter, and so now they will defend their honor at the drop of a shell…
Why so Popular?
Why are the Turtles so popular? Eastman, a mustachioed young man in his early twenties, still is not quite sure. "I think it's the name. Of course, the artwork helped… " He laughs, a little self consciously. "But we have so may people who buy it just because of the name, and hopefully they find they can like the story, too. But mostly they say, 'AAGGHH!!! Teenage! Mutant! Ninja! Turtles!' And they've just got to buy it!"
Laird, the senior half of Mirage Studios at age 31, concurs. "I mean, even people who don't read comics, when they see or hear the name they break up – or at least give a smile. The name is so outlandish, it draws attention to itself."
According to Eastman, the pair did indeed study current trends in mass market comics, then ingeniously melded them all together, with just a touch of parody laid in for good measure. But could they recall the exact moment when this incredible fusing of elements came together to form what may be the neatest cult creation since Howard the Duck?
"It all started," Laird states in deep, worldly tones, "When this young lad here drew a turtle with a mask and nunchucks strapped to its arms."
"And I said we'll call him a 'Ninja Turtle,'" interjects Eastman, "and we both chuckled. Then Pete did his version of that and we said to ourselves, 'if not one, why not four?' So I sketched out these four and I handed it to Pete and said, 'Ninja Turtles.' And he handed it back and said, 'No – Teenage Mutant Ninja Turtles.' And we just died laughing."
Laird still smiles at the memory. "It was really kind of an accident. It just struck us as being kind of funny. And when Kevin did the group shot, it struck us that they would be a need group to do a story about."
A Team
Claiming that one could not work successfully without the other, Eastman and Laird (as they are billed above the title of their comic as its true auteurs) handle the entire production of the book, from start to finish. And as the sole owners and employees of Mirage Studios, from start to finish entails exactly that: from buying the art supplies to writing the script to doing the artwork to putting the completed book into the mailing envelope. Each issue takes about five weeks to complete, though both artists admit they are far from what is traditionally thought of as a comic book production line.
"We average about a page and a half a day, for finishing work,once we get the pencils done," explains Laird. "It's the inking that takes the longest time. But it does go pretty fast, with both of us working on it." One reason they get as much done between them is because, when one gets bored with a particular element of the production, they can just switch over so that the other can deal with the work with fresh insight and energy.
"It's pretty unique," adds Eastman enthusiastically. "We don't know of anyone else in the field where two artists and writers get together and share the work 50-50 on a book. We can't think of anybody else who does it."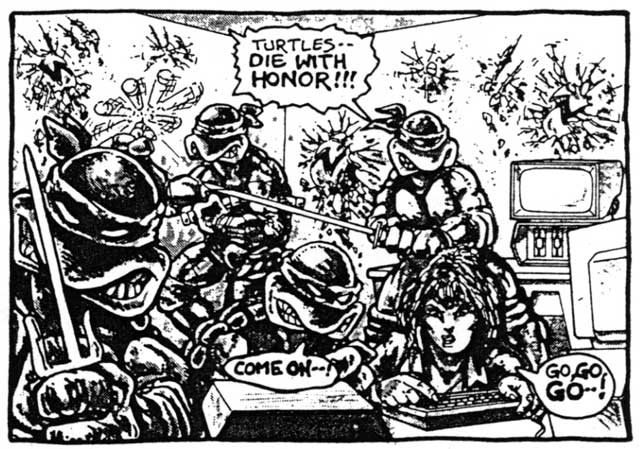 Another innovative idea from Mirage Studios is their forthcoming one-issue "micro-series". Part of the concept of a "micro-series" is to poke fun, according to Eastman, "at a lot of the mini-series that are usually four or six issues." His partner readily agrees. "The micro-series is our concept," Laird admits proudly. "I don't think anyone's ever done that before. We're planning to do one featuring each Turtle. Raphael and Michaelangelo this year, and the next one will probably be on Donatello. That whole story will actually be a tribute to Jack Kirby." (Jack Kirby is a legendary comics artist who inspired both men in their youths.)
We definitely know where we're going," claims Eastman, speaking of the Turtle series as a whole. "At least up till issue six."
Regardless of their humble beginnings, fame and fortune appear to be fast overtaking Eastman and Laird. Their Mirage Studios is offering 25-mm metal miniatures of each turtle in an appropriate action pose, as well as full-color T-shirt iron-ons of both the turtles and their title logo. (For further information, write Mirage Studios, PO Box 1218, Sharon, Conn. 06069. Back issues of the comic are available for $2.00 each, postpaid.) A Dungeons and Dragons style role-playing game from the Palladium company is scheduled for release this fall. At this rate, it is not too far-fetched to think that the turtles will be in their own mass market edition someday, and who is to say an animated Saturday morning TV series is not out of the real of possibility? No one, however, is more surprised at the success of the turtles that their creators.
Record Rise
"I think we've set a record for rapid rise in price for any comic book over a rear's time," says Laird, with more than a trace of awe in his voice.
"Just to give you an idea, there's a company called American Comics that's selling the first issue for $75," Eastman breaks in to say. "Now, we haven't even gotten issue three back from the printers yet, and it's a $1.50 cover price. And they're asking $3.50 for it, and we haven't even gotten it back from the printers yet!!!"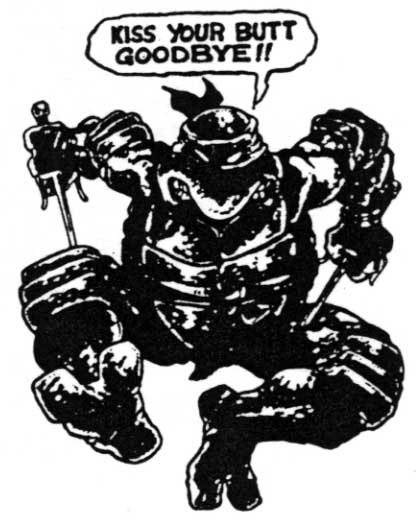 "We've heard of autographed first editions going for $100 at comic conventions," adds Laird, shaking his head in amazement.
Rest assured, more issues – with much larger print runs – are being made available to the ever growing fandom of the turtles. Future plans to call for the Teenage Mutant Ninja Turtles to be in full color, but for now the two artist-writers are being careful to take their new-found success both slowly and selectively. They have just begun to become part of the comic convention route, where they are rubbing shoulders with the major talents in the field when, only a few short years ago, they would have been satisfied with just getting their autographs. Yet the fans of all ages who crowded into Funtasy Fantasy to obtain original sketches and their autographs, further proved that Peter Laird and Kevin Eastman are no longer dreamers – on the outside looking in. For all intents and purposes, they have made their fantasy become their reality.
While declaring that it is almost impossible to break into the professional comics field, whether independently or with the major publishers such as Marvel or D.C., the bottom line remains that they never really thought of doing anything else with their lives. Both have already paid their dues, and have the stacks of rejection slips as evidence.
"You've got to be fanatical," says Eastman. "You have to eat, sleep, breath comic art. The competition is unbelievable; you have to be really good to get in."
"Almost an equal component is staying power," concludes Laird, "Just keep hanging in there. Just keep drawing, keep submitting." He and Eastman grin broadly as they continue signing copies of their dream. "Just keep the faith."