Our next show will be MEMPHIS Comic Expo the weekend of September 23-24
We look forward to meeting lots of new friends and catching up with so many we haven't seen in a long time too.
We look forward to seeing you on the road in 2023
For inquiries about ticket pricing, signing times, numbers etc. please reach out directly to the conventions.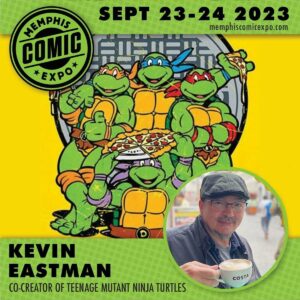 ---
---
Past 2023 Shows:
Planet ComicCon – Kansas City, MO – March 18 & 19
C2E2 – Chicago, IL March 31 & April 1
SC Comicon – Greenville, SC April 15 & 16
Amazing Las Vegas – Las Vegas, NV, April 19 & 30
Lake Como Comic Art Festival – Villa Erba, Cernobbio, Italy  May 12-14
Supanova, Sydney Eastman Details – Sydney, Australia
June 17 – 18
Supanova, Perth Details – Perth, Australia
June 24 – 25
Comic Con International – San Diego, CA
July 19-23
Fanboy Expo Orlando – Orlando, FL
September 2 & 3
---