Please Share with your Local Comic Shop
35 Years to the month after launching TMNT,
I'm thrilled to be self publishing again!!!
"I have a series coming out in May that I'm self publishing called DRAWING BLOOD. It's based on a character that's kind of semi-autobiographical but also a more complete take on a completely fictional true story of a guy in this comic book universe that created these characters and had some success but lost his mojo. It's kind of a "Spinal Tap" meets "Breaking Bad". It's kind of a crazy comic series we're publishing. The first issue comes out in May of this year and it runs for 12 issues. So fans can look forward to that."
– excerpt from a recent interview with Comic Lounge
In May, Kevin Eastman Studios will begin self publishing by releasing a serialized Drawing Blood comic series and a one shot of the Radically Rearranged Ronin Ragdolls with much, much more of both to come…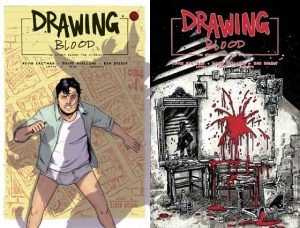 I am writing to ask you to draw your local comic shops attention to this month's Diamond PREVIEWS , which features a four-page interview talking about my getting back into self publishing 35 years after TMNT launched (May 1984!). And much more importantly – the ordering information for Drawing Blood – Spilled Ink and the Radically Rearranged Ronin Ragdolls.
My co-creator, David, describes these projects as follows:
" DRAWING BLOOD is a grown-up comic about the roller coaster of a life in show business (specifically comics). The ambition is no less than to make the "All That Jazz" or "8 1/2" of comics. DRAWING BLOOD will be ongoing, every month, with a new "arc" every four months. The Story is co-created by Kevin and me, David Avallone, script by me art by Ben Bishop "flashback" art by Kevin, "hallucination" art by Troy Little, colors by Brittany Peer and and Tomi Varga, and lettering by Taylor Esposito."
"The RADICALLY REARRANGED RONIN RAGDOLLS is the comic-within-the-comic: Drawing Blood is about a comics creator and the RAGDOLLS are his creation. We're releasing the "special origin issue", a 32 page special, the same day as DRAWING BLOOD #1. Story by Kevin and me, script by David, art by Kevin and Troy, color by Tomi, letters by Taylor. We have 5 variant covers of the RRRR special – by Kevin, Freddie Williams, Stan Saki, Troy Little and Ben Bishop"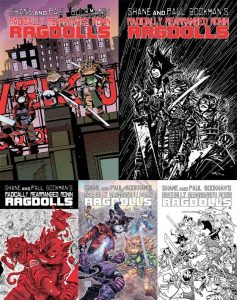 Each of the variant covers is available for your store to order in any quantity – none of these are pricey Retailer Variant specials.
Drawing Blood and the Radically Rearranged Ronin Ragdolls formed an enormously successful Kickstarter project that garnered over $106K and a passionate fan following that I am confident will follow along this path through stores like yours.
Below is an excerpt from a Diamond Comics interview they conducted with me recently – this also includes a link to the catalog order codes.
"One evening in 1984, Kevin Eastman and friend Peter Laird brainstormed the idea of a team of martial arts turtles after Eastman sketched a turtle wearing a mask and wielding martial arts weapons. Drawing upon the comics of the past and the 1984-present, they created the Teenage Mutant Ninja Turtles… their homage to everything they liked about comics, including the works of Jack Kirby and more specifically, Frank Miller's Daredevil. 35 years later, the TMNT (as their mile-long moniker was shortened to) are a worldwide phenomenon… toys, cartoons, live-action movies. And for their co-creator, Kevin Eastman, its been a long, strange, and wonderful trip indeed. Drawing upon his long history in the comics biz, and his own personal experiences shepherding the TMNT from cult indie sensation to household names, Kevin has launched his own publishing company, Kevin Eastman Studios , to tell his story… sort of…"
Please reach out to your local shops and let us know that they are ordering copies of these new books and I will let all my viewers on social media know that they can get copies of these books at your favorite store.
Thank you for your consideration and your past 35 years of support of the TMNT!
Cool Beans!!! – Kevin Eastman
www.KevinEastmanStudios.com
on Facebook: kevin.b.eastman
on twitter: kevineastman86
instagram: kevineastmantmnt