Ninja Warriors Seek The Shredder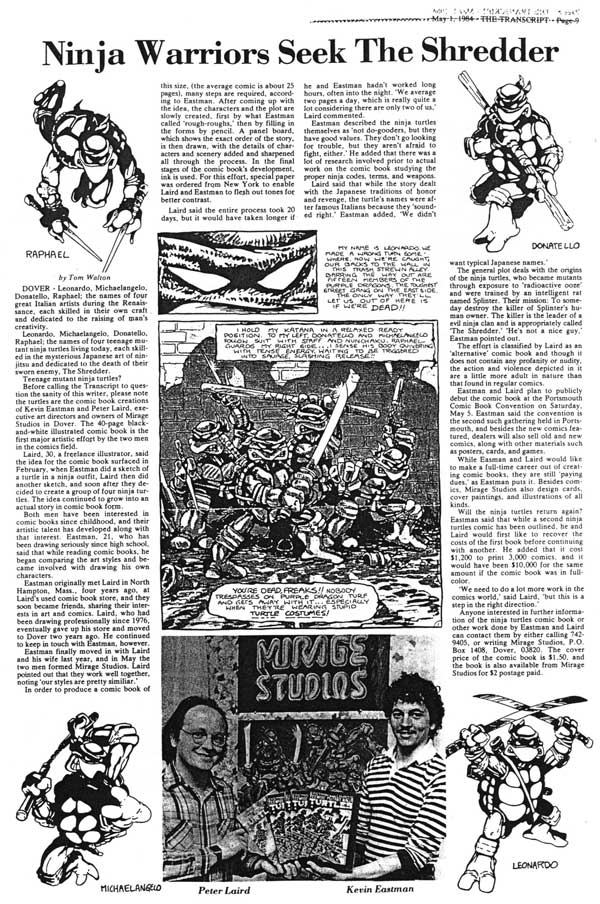 Transcript
Southern New Hampshire's Leading Weekly Newspaper
Ninja Warriors Seek The Shredder
May 1, 1984
by Tom Walton DOVER
Leonardo, Michaelangelo, Donatello, Raphael; the names of four great Italian artists during the Renaisance, each skilled in their own craft and dedicated to the raising of man's creativity.
Leonardo, Michaelangelo, Donatello, Raphael; the names of four teenage mutant ninja turtles living today, each skilled in the mysterious Japanese art of ninjitsu and dedicated to the death of their sworn enemy, The Shredder.
Teenage mutant ninja turtles?
Before calling the Transcript to question the sanity of this writer, please note the turtles are the comic book creations of Kevin Eastman and Peter Laird, executive art directors and owners of Mirage Studios in Dover. The 40·page black· and· white illustrated comic book is the first major artistic effort by the two men in the comics field .
Laird. 30, a freelance illustrator, said the idea for the comic book surfaced in February, when Eastman did a sketch of a turtle in a ninja outfit, Laird then did another sketch, and soon after they decided to create a group of four ninja turtles. The idea continued to grow into an actual story in comic book form.
Both men have been interested in comic books since childhood, and their artistic talent has developed along with that interest. Eastman, 21. who has been drawing seriously since high school, said that while reading comic books, he began comparing the art styles and became involved with drawing his own characters.
Eastman originally met Laird in Northampton, Mass four years ago at Laird's used comic book store, and they soon became friends, sharing their interests in art and comics. Laird, who had been drawing professionally since 1976, eventually gave up his store and moved to Dover two years ago. He continued to keep in touch with Eastman, however.
Eastman finally moved in with Laird and his wife last year, and in May the two men formed Mirage Studios. Laird pointed out that they work well together, noting 'our styles are pretty similar.'
In order to produce a comic book of this size, (the average comic is about 25 pages), many steps are required. according to Eastman. After coming up with the idea, the characters and the plot are slowly created, first by what Eastman called 'rough-roughs,' then by filling in the forms by pencil. A panel board, which shows the exact order of the story, is then drawn, with the details of characters and scenery added and sharpened all through the process. In the final stages of the comic book's development, ink is used. For this effort, special paper was ordered from New York to enable Laird and Eastman to flesh out tones for better contrast.
Laird said the entire process took 20 days, but it would have taken longer if he and Eastman hadn't worked long hours, often into the night, 'We average two pages a day, which is really quite a lot considering there are only two of us.' Laird commented.
Eastman described the ninja turtles themselves as 'not do-gooders, but they have good values . They don't go looking for trouble, but they aren't afraid to fight, either.' He added that there was a lot of research involved prior to actual work on the comic book studying the proper ninja codes, terms and weapons.
Laird said that while the story dealt with the Japanese traditions of honor and revenge, the turtle's names were after famous Italians because they 'sounded right.' Eastman added, 'We didn't want typical Japanese names.'
The general plot deals with the origins of the ninja turtles, who became mutants through exposure to 'radioactive ooze' and were trained by an intelligent rat named Splinter. Their mission: To someday destroy the killer of Splinter's human owner. The killer is the leader of a evil ninja clan and is appropriately called The Shredder.' 'He's not a nice guy.' Eastman pointed out.
The effort is classified by Laird as an 'alternative' comic book and though it does not contain any profanity or nudity, the action and violence depicted in it are a little more adult in nature than that found in regular comics.
Eastman and Laird plan to publicly debut the comic book at the Portsmouth Comic Book Convention on Saturday, May 5. Eastman said the convention is the second such gathering held in Portsmouth, and besides the new comics featured, dealers will also sell old and new comics, along with other materials such as posters, cards, and games.
While Eastman and Laird would like to make a full-time career out of creating comic books, they are still 'paying dues,' as Eastman puts it. Besides comics Mirage Studios also design cards, cover paintings, and illustrations of all kinds.
Will the ninja turtles return again? Eastman said that while a second ninja turtles comic has been outlined, he and Laird would first like to recover the costs of the first book before continuing with another. He added that it cost $1,200 to print 3,000 comics, and it would have been $10,000 for the same amount if the comic book was in full color.
'We need to do a lot more work in the comics world,' said Laird, 'but this is a step in the right direction .'
Anyone interested in further information of the ninja turtles comic book or other work done by Eastman and Laird can contact them by either calling 742-9405, or writing Mirage Studios, P.O. Box 1408, Dover, 03820. The cover price of the comic book. is $1.50, and the book is also available from Mirage Studios for $2 postage paid.