Out & About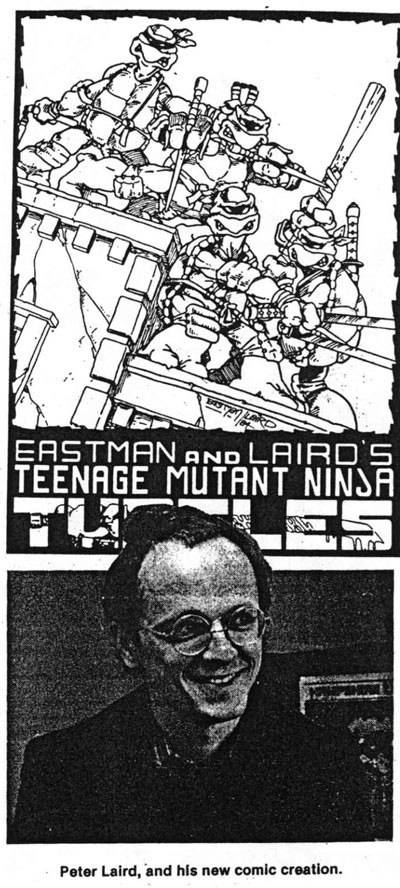 Daily Hampshire Gazette
Hampshire life, April 20, 1984
Out & About
Nancy Frazier
"You're dead, Freaks!! Nobody trespasses on Purple Dragon turf and gets away with it… Especially when they're wearing stupid Turtle costumes!" These words are shouted in a dark, trash-strewn alley where 15 members of the Purple Dragons, the toughest street gang on the east side, are trapped. It is a page from "Teenage Mutant Ninja Turtles," a new comic book from a new venture called Mirage Studio in Dover, NH. On of the two founding members of Mirage is Peter Laird.
Peter Laird, as faithful, long-time readers of Hampshire Life know, has been a faithful, ling-time illustrator of Life Line and Gardener's Checklist. Most readers don't know that Peter moved from Northampton to Dover, NH a couple of years ago.
This week's mail brought news of Peter's latest venture, comic books featuring the mutant turtles (mutant turtles!?) named Leonardo Michelangelo, Donatello and Raphael. The first issue is set for publication May 1. If you want (or dare) to order one, the cover price is $1.50, available by mail for $2 from Mirage Studios, PO Box 1408, Dover, NH 03820.