I often get asked about my personal TMNT toy collection. I love all these Radically, Goofy, Whacky, Rock'n Rollin', Mutated, Kick-Action, Pizza Powered figures AND I am making some of them available for you.
These are played with toys from my own collection, I signed them and had fun adding weaponry (not always historical accurate – LOL) and repackaging them in my Personal Vintage Radically Rearranged Reptilian TMNT Toy Collection Clam Shells – designed just for you!

Lots of these toys are enclosed in a clear clam shell packaging and each toy is signed by me. We strive to photograph each of these so you can see my signature BUT in some cases I sign them on the foot (you can see LOTS of samples here), but when it comes to The Foot – I sign them on The Thigh – LOL!!!!
View cart
"General Traag" has been added to your cart.
Showing all 24 results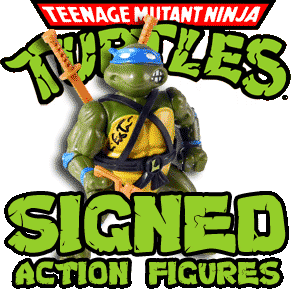 Cowabunga News!
Vintage Greeting Card CowaBundles We are offering 7 new fun CowaBundles, each comprised of 5 Vintage 1989 Greeting Cards and envelopes. Visit the Team Eastman Department to Grab one of ...
New TMNT Auctions We are thrilled to have launched our new AUCTION department on the website. We will be bringing more items on gradually and usually these auctions ...
Signed Prints and Portfolios newly in stock We have over 60 Signed Prints back in stock. The prints are hand signed by Kevin so each will vary just a little as these are ...
@Con2 is ongoing NOW !!! Follow @Elite_Comics11 on Instagram to see @Con2 Elite Comics11's FREE Virtual Comic Con June 25-28th with special guests yours truly, Neal Adams & more! The ...
Vintage Nostalgia Available NOW! A set of four (1 of each Turtle) of Super Sippers. Juice Box Holders in their original packaging. Produced by Little Kids Inc. in 1990. ...