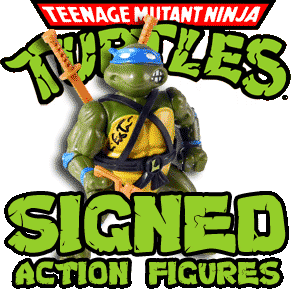 Cowabunga News!
Original Artwork

TMNT, Teenage Mutant Ninja Turtles Original art is a very special gift for yourself or a true TMNT fan. We have lots ...

TMNT Issue 100 – LIVE on Facebook – Archived

TMNT 100 with Kevin, Tom and Bobby was  LIVE on IDW Facebook earlier today.

Grab a slice of pizza and ...

Signed Toy Department is Loaded Again

A complete set of  classic TMNTs plus Splinter, Toons, Headdroppin', Usagi, and AWESOME Vehicles too and more – we just reloaded the Signed Toys department ...

New Archie Comics & Mirage CowaBundles PLUS more

Archie Comics CowaBundles, Mirage Comic CowaBundles, Cover B CowaBundles, a Complete Set of Drawing Blood and the Ragdolls, Ultimate Collection 4, Shredder in Hell and ...

Classic Shredder

The original inspiration for the character of The Shredder came while washing dishes with Peter Laird. I thought he could be called The Grater ...