Granite Con Meet & Greet
We are thrilled to be attending Granite Con this September in Manchester NH
Granite State Comicon and Kevin Eastman Studios invite you to a special Teenage Mutant Ninja Turtles 35th Anniversary Shellebration Meet & Greet and Pizza Party Friday Night, September 13th! This special event is being held from 6 to 8pm at the Penstock Room at the Doubletree by Hilton, all part of the same complex as the convention.
Come celebrate 35 years of the TMNT with special guests Steve Lavigne, the cast of the original TMNT animated series (Cam Clarke, Townsend Coleman, Barry Gordon, Rob Paulsen) Ben Bishop, Simon Bisley (maybe), Andy Kuhn, Bill Walko and myself!!!

There will be UNLIMITED PIZZA and soft drinks, a bar, a superlative MC or is it emcee? LOL, shout outs to TMNT Fan Groups, conversations with our celebrity guests and silent and live auctions of radically cool TMNT items donated by artists, fans, family, Mirage Studios, Nickelodeon, Playmates and more with all proceeds benefiting the Turtle Rescue League!
Event Admission is $75 and includes unlimited pizza and soft drinks. Adult beverages will be available at the cash bar. Admission does not include entry into the Granite State Comicon which must be purchased separately. Please join us for an evening of fun to raise a glass to 35 Years of the TMNT, raise a few bucks for a very worthy organization and kick off Granite Con 2019 in style.
Want to include entry into the Granite State Comicon? Upgrade to the Cowabunga VIP pass! This limited edition pass is available for $200 and includes admission into the meet and greet, entry to the convention a half hour early each day, entry to all afterhours events, exclusive badge, print, comic book and awesome swag/goodie bag.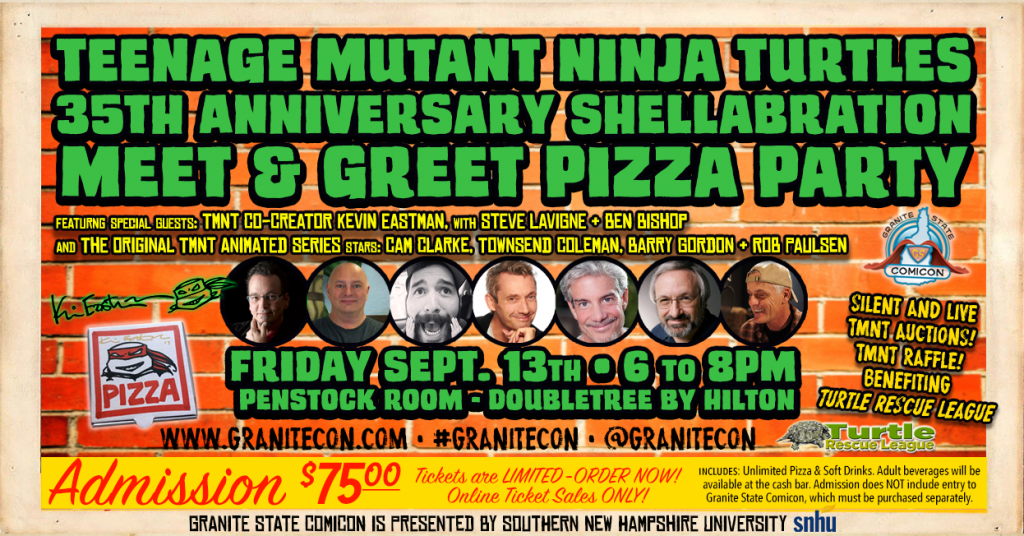 The Granite State Comicon is northern New England's premiere comic book and pop culture event. Now in its 17th year the Granite State Comicon features guest artists, celebrities, cosplay, vendors, dedicated kids con, workshops, panels, after hours events and more!