Kickstarter Campaign Update
An important and AWESOME update for our Kickstarter Backers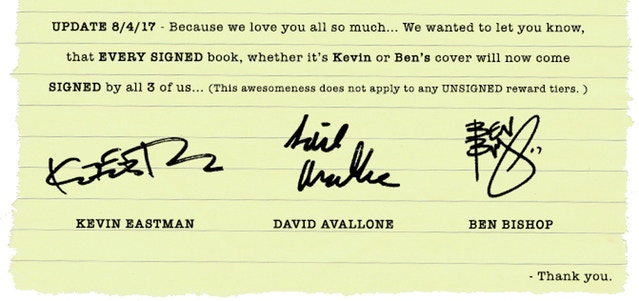 You read that right. As of now, any SIGNED book reward tiers will have ALL 3 of our signatures on them. That means if you originally got a Kevin cover with a Kevin signature, you'll also get Ben and David, and if you got a Ben cover with a Ben signature, you'll also get Kevin and David…
Pretty straight forward right? It's the least we can do. If you're currently getting a cover with NO signatures you can always change your reward to take advantage of this new bonus.
SHARING IS CARING.
We had an INCREDIBLE start to this campaign and can't thank you all enough. It's normal in a Kickstarter campaign for things to start slowing down right about now, and frankly, we're still going strong.
This is when it's going to take all hands on deck, all 496 (holy moly) of you to continue to help spread the word on your various social media platforms.
Imagine a 496 person blast to each individual's circle of friends. I think if we all did that today we could hit this goal as early as tomorrow and all sleep well knowing THIS BOOK IS GETTING MADE! Which would also allow us to start revealing some of our epic stretch goals… Like, but not limited to the RADICALLY REARRANGED RONIN RAGDOLLS issue #1 comic drawn by Troy Little which you can all get FOR FREE if we get there.
Let's keep up the good work guys! The best part about Kickstarter is it really is a community and we're all making this thing possible together.
More soon!
Cool Beans!
– The whole DRAWING BLOOD team.